How to Use Lighting to Improve Hotel Favorability?
Each five-star hotel has its own distinctive characteristics and its image can be effectively strengthened through unique ambiance, considerate service as well as carefully-selected hardware facilities. The identification and appreciation from customers will bring the hotel with high-quality advertising effect and endless economic benefits. But do you know that poor lighting effects will also impact customers' evaluation of the hotel? A questionnaire about hotel lighting effect conducted by the hotel industry indicates many customers grumble about the dim and uncomfortable hotel lighting design.
How to make the hotel lighting receive more favorable comments from customers? Tips of hotel lighting from AERO are as follows: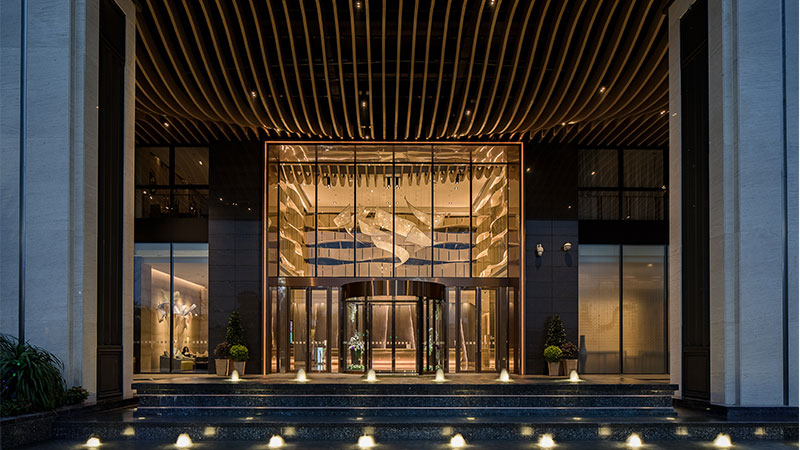 1. Ask the help from professionals to conduct lighting design
Nowadays, the function of hotel lighting is far beyond its apparent significance and it has become the focal point of hotel design rather than a simple lighting device. However, the plan and design of lighting environment are frequently ignored in the initial construction of the hotel. So it is critical to hire professional designers to conduct the lighting design, especially the lighting design of public areas, according to the layout of hotel facilities, which can improve customers' first impression of the hotel efficiently and rapidly.
2. Pay attention to hotel exterior lighting design
When the night falls, the hotel lighting project is demonstrated. Professional lighting design can create a unique atmosphere for the hotel as well as economic benefits. A perfect hotel exterior lighting design will highlight the special and exclusive style of the hotel and allow customers to feel at home. Advanced hotel tends to pay attention to exterior hotel lighting design. The lighting theme and suitable distribution should be determined based on the individualized architectural style of the hotel to depict its exterior appearance and light up the city.
3. Conduct the hotel lighting design based on different circumstances
The layout of public areas of the hotel should change with various circumstances. As functional areas such as lobby, reception, dining bar and bar coexist a multi-purpose hall, the hotel lighting design should be conducted according to different functions, which gives a clear guide to customers, highlights the ambiance and perfect service of the hotel and plays a role of environmental transition.
For example, the illumination of the reception is relatively high, which makes it more remarkable in the lobby, while the light of the dining bar can be dimmed to distinguish other areas when it is not in use and the rest area is darker. Coordination of different lighting devices creates a warm and comfortable ambiance.
In addition, the hotel also plays a role of gathering and dining venue. A same function hall can be widely used in different circumstances, from business meeting to wedding ceremony. Therefore, it is necessary to develop a lighting design scheme applied in various circumstances so that the hotel can provide a variety of choice and improve customer satisfaction.
4. All areas should be equipped with comfortable lighting devices
It is of great importance that all areas in the hotel should adopt lighting devices with unified color or style and there should not be obvious change in terms of color temperature and illumination when customers pass through different areas to make customers comfortable and ensure their stay a truly enjoyable experience.
AERO LIGHT Co., LIMITED is committed to providing services for five-star hotels with a complete range of lighting devices, covering the various requirements for different areas, spaces and circumstances. AERO offers lighting devices with simple design and consistent photochromism, which creates a comfortable and appropriate luminous environment in all areas and further improves customers' satisfaction and preference for the hotel lighting effects.