Good News: AERO Light has been recognized as "Innovative SME in 2022" by Guangdong Province
In 2021, the Ministry of Industry and Information Technology proposed the concept of a "1,000,000" cultivation system for small and medium-sized enterprises. This programme set out that during the 14th Five-Year Plan period (2021 to 2025) 1 million innovative small and medium-sized enterprises would be cultivated alongside 100,000 small and medium-sized enterprises featuring "specialization, refinement, specialty, novelty", and 1,000 manufacturing single champion enterprises. The programme's aim was to promote China's industry as a whole to the middle and high end of the global value chain.
Recently, AERO LIGHT Co., LIMITED ("AERO Light"), a lighting company focusing on five-star hotel lighting, was successfully selected as an "Innovative SME in 2022" and awarded a plaque by the Guangdong Provincial Department of Industry and Information Technology.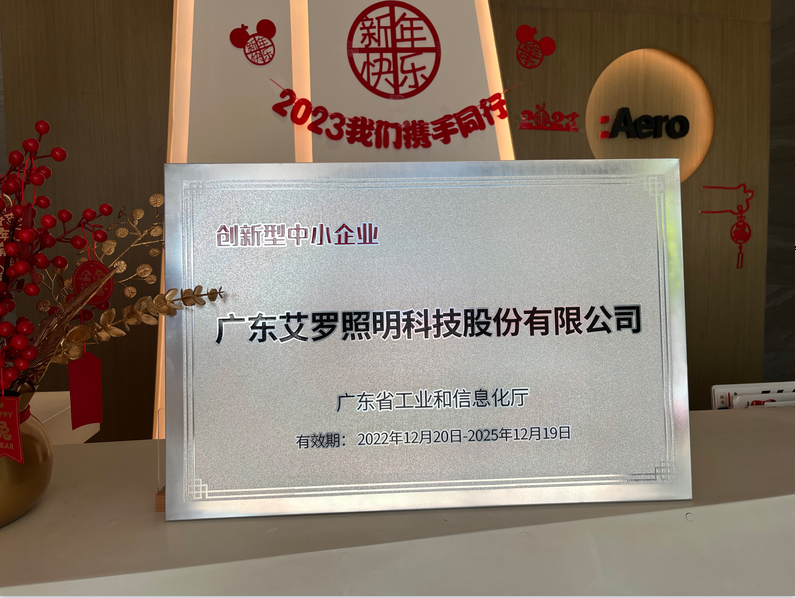 "Innovative SMEs" refers to enterprises with influence, high level of specialization, strong innovation ability and development potential in industry segments. It is a "certification" mark of an enterprise's innovation ability. The evaluation element of the award focuses on the three dimensions of innovation, growth and specialization of enterprises

As a high-tech enterprise in Guangdong Province, AERO Light always regards "advocating innovation" as one of its values. Since its establishment, AERO Light has always insisted on independent research and development, and spared no effort to invest in R&D and innovation. As of 2022, the company has obtained nearly 100 product patents, has 5 high-tech products, and has obtained a number of international product certifications. Its products are exported to many countries and regions around the world.
In October 2022, AERO Light brought many new products to the lighting exhibition in Frankfurt, Germany, bringing three new series to a global audience. Theseincluded five-star hotel overhead lighting: ATL intelligent remote sensing lights; solutions provided for mirror front lighting: the Vanity Downlight; and the second generation of products specifically for five-star hotels: AMOO series ceiling lights, demonstrating the innovation and breakthrough of lighting technologies made in China in five-star hotel.
By continuously developing innovative products through dialogue with top lighting designers around the world, AERO Light is now one of the top choices for high-end hotel lighting. So far, AERO Light has completed over 200 five-star hotels, especially in Asia Pacific, Middle East, Africa and other regions with local iconic projects, which have been highly recognized and appreciated by customers.
AERO Light is a recognition of the company's innovation ability and professional services. As an excellent foundation for high-quality small and medium-sized enterprises, AERO Light will take this as a starting point to continue to improve the ability of technological innovation and product development, and continue to walksteadily on the development road of "specialization, refinement, specialty, novelty".