《Hospitality Interiors》:Aerolight creates inspired lighting scheme for unique Xitang hotel
Source:《Hospitality Interiors》
Web:https://issuu.com/gearingmediagroupltd/docs/hi96_pages5lres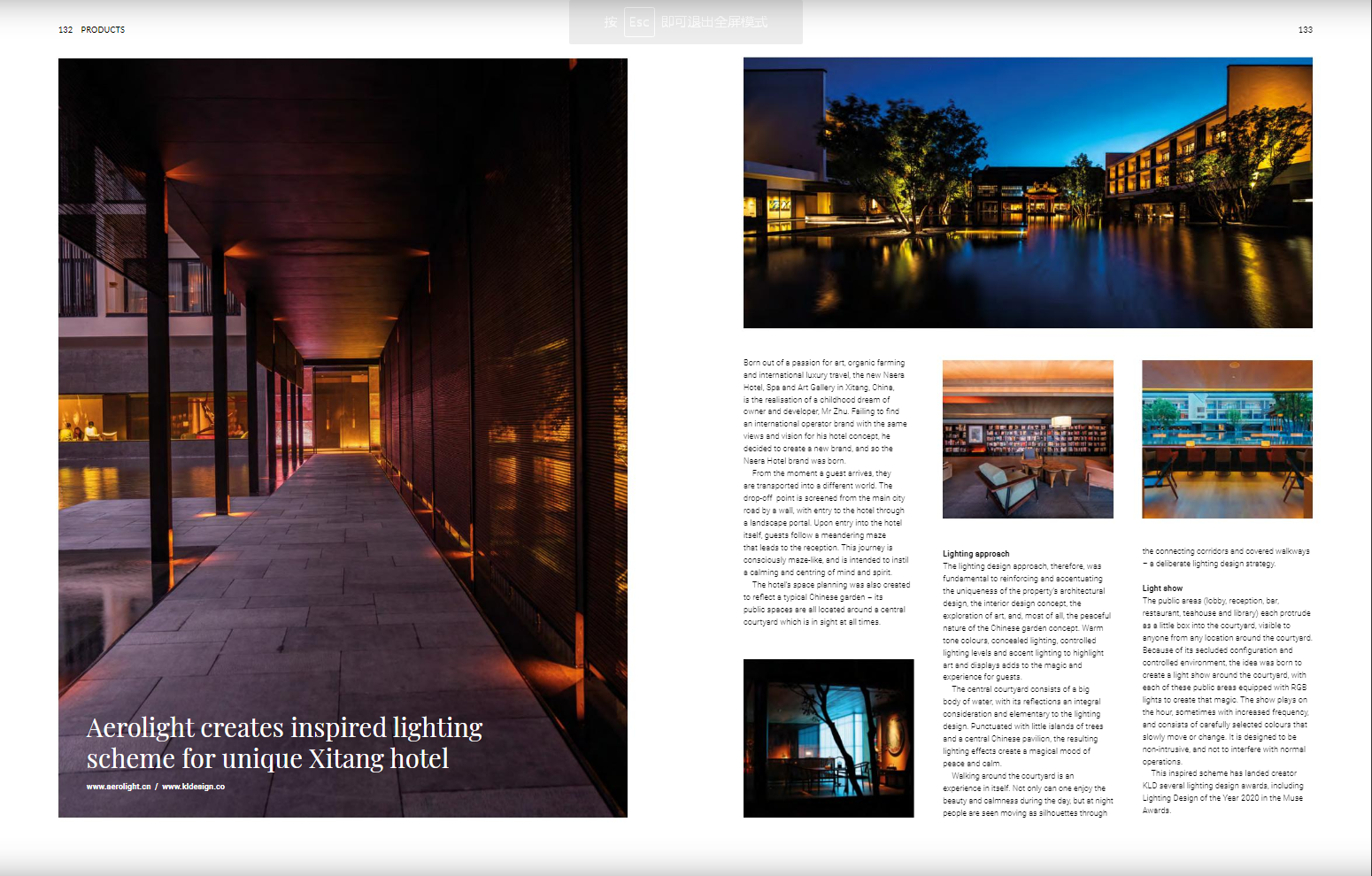 Born out of a passion for art, organic farming and international luxury travel, the new Naera Hotel, Spa and Art Gallery in Xitang, China, is the realisation of a childhood dream of owner and developer, Mr Zhu. Failing to find an international operator brand with the same views and vision for his hotel concept, he decided to create a new brand, and so the Naera Hotel brand was born.
From the moment a guest arrives, they are transported into a different world.The drop-off
point is screened from the main city road by a wall, with entry to the hotel through a landscape portal. Upon entry into the hotel itself, guests follow a meandering maze that leads to the reception. This journey is consciously maze-like, and is intended to instil a calming and centring of mind and spirit.
The hotel's space planning was also created to reflect a typical Chinese garden-its public spaces are all located around a central courtyard which is in sight at all times.
Lighting approach
The interior lighting designs approach,therefore,was fundamental to reinforcing and accentuating the uniqueness of the property's architectural design,the interior design concept,the exploration of art,and,most of all,the peaceful nature of the Chinese garden concept.
Warm tone colours,concealed lighting,controlled lighting levels and accent lighting to highlight art and displays adds to the magic and experience for guests.
The central courtyard consists of a big body of water, with its reflections an integral consideration and elementary to the lighting design. Punctuated with little islands of trees and a central Chinese pavilion, the resulting lighting effects create a magical mood of peace and calm.
Walking around the courtyard is an experience in itself. Not only can one enjoy the beauty and calmness during the day, but at night people are seen moving as silhouettes through the connecting corridors and covered walkways -a deliberate lighting design strategy.
Light show
The public areas(lobby, reception, bar, restaurant, teahouse and library) each protrude as a little box into the courtyard, visible to anyone from any location around the courtyard.
Because of its secluded configuration and controlled environment,the idea was born to create a light show around the courtyard,with each of these public areas equipped with RGB lights to create that magic. The show plays on the hour, sometimes with increased frequency, and consists of carefully selected colours that slowly move or change. lt is designed to be nonintrusive, and not to interfere with normal operations.
This inspired scheme has landed creator KLD several lighting design awards, including Lighting Design of the Year 2020 in the Muse Awards.